Dear Traveler,
As we are always looking to serve you better, we would like to let you know that we are keeping records of all of the feedback of our dearest customers who have tried one of our trips. Surely, you can read these in our office to get to know about how our customers think about us, also we will be very thankful if you would like to leave a feedback for us by adding it through the Contact Us link on our website.
Here's some of our feedback which we received from our clients
From:Shama Mohan
Sent: Friday, May 31, 2013 1:35 AM
Subject: Thank You From Montreal
Hi Rafik
How are you?
It is with joy that we both say thank you to all those who make our trip enjoyable
To the Drivers ,the Tour Leaders,the Dedicated Guides, especially One Notable Mr Fahay
His enthusiasm and love was evident as a tour Guide. the archeological findings, and the Ancient Heritage he shared with us.
The excitement and joy of Ancient Egypt both past and present.
Our trip was absolutely GREAT !!!
The Educational and Historical and Religious benefits will carry us through as a wonderful experienced
And to think that we walked the path of so many Ancient Leaders.
Thank You
Best Regards
S&B
Montreal
---
—–Original Message—–
From: kris*******rgess@gmail.com
Sent: Friday, December 07, 2012 4:07 PM
To: info@discountholiday.net
Subject: Web Mail from: Kristy Burgess
Phone: 905xxx2866
Email: kris********rgess@gmail.com
How did you hear about us:
Newspaper
Feedback
I am FINALLY getting around to leaving feedback! I booked with your company June 2011 literally a week before out departure date and you did a fantastic job of putting everything together in such a short period of time! I am still in awe. We had amazing seats on the plane (never separated), we had the most breathtaking views from our hotel rooms, the finest dining experiences and the friendliest guides/drivers. Every minor detail most other travel companies would probably overlook you guys took care of. We had the best of everything. This was my 1st time out of Canada and for my boyfriend he had traveled all over and was still amazed at the level of professionalism and dedication you had. We stayed in Egypt for 3 weeks and it was the most amazing experience of my life. I will never forget it and even now, when someone asks me about my trip I cannot help but rant and rave about how amazing it was. I always highly recommend you and will book with you again in the future! The guides we had throughout our trip were memorable and highly knowledgeable, I even still keep in touch with two of them via Facebook! With the revolution going on still there was not many tourists and I did not feel threatened once during my entire stay. Egypt is safe people! Please visit! I was treated like family everywhere I went. I met some incredible people, tasted the finest foods and experienced so much history and culture. I still complain about Canadian produce because it fails in comparison to anything I had there. Egypt has always intrigued me ever since I was 8 years old and I am so glad I chose you to have my 1st travel experience with! I hope all is well and happy holidays!
---
—–Original Message—–
From: ROBERT A
Sent: Saturday, January 12, 2013 10:20 PM
To: Discount Holiday
Subject: Re: thank you for your nice tell call
It certainly was nice to speak to you earlier this week regarding the trip that you booked for us to Egypt. My husband Robert and our friends Larry and Cindy Pickett, and I would all like to commend you on the exceptional planning you did on our behalf.
We wanted to make sure that you realize the incredible tour guide your company uses in Cairo. Ronya's exceptional excursions and her insights to everyday life and living in Egypt was overwhelming. We truly appreciated her humor, her goodwill and her personality.
We would be remiss if we were not to compliment you also on the travel leader George who met us at the airport, and assisted with all our our transfers at the train station, and airport. His care and attention to detail is commended as is his love for his country and our personal needs. His humor was warm, his character rich and we enjoyed his company.
Our driver Michael was truly remarkable. NEVER had any of us witnessed such traffic! He was at all times courteous to us and attentive to the traffic. Please extend our gratitude to Michael.
Thank you once again Rafik, we look forward to working with you again, and certainly recommending you and your services to our family and friends.
Be well
Shelley Twerdoclib
---
—–Original Message—–
From: s****n@a****t.ca
Sent: Friday, November 30, 2012 10:22 AM
To: Discount Holiday
Subject: Thank you so much from Coralie
Dear Rafik – forgive me for not writing earlier, but I got my internet
connection only a week ago. You know how long things take in India to
get. I rent a computer and then get the connection.
I hope you had a good trip to Egypt and a safe return to Toronto. Both
my cousin and I got back to Dubai and Hyderabad pretty well after a
very nice trip to Turkey and Greece. Thank you for all you did to make
us comfortable and our trip enjoyable. Our drive and tour guide were
just lovely people, so capable and efficient and took good care of us
all.
I am sure you and your wife are back to normal routine, busy as ever.
I will download my pictures only when I return to Toronto in March, so
you will have to wait for pictures from me. I did receive some from
the group and hope Effie and George send you those pictures.
Thank you again Rafik for everything. Do convey my best wishes to your
wife who is really a very nice person.
Will keep in touch.
Coralie
---
Dear Rafik;
When we first made plans to visit Egypt, we hoped it would be one of the most memorable trips of a lifetime. Our recent holiday in Egypt proved to be just that.
Whether it was seeing the pyramids and Sphinx in Cairo, cruising down the Nile to see the Valley of the Kings and Karnak or heading across the desert to visit Abu Simbel, it was a trip full of history and exotic experiences. In all cases we were well looked after by your representatives from South Sinai.
Amir, whom we met at the beginning of our trip and at the end, looked after us like family. He was there to pick us up from the airport on arrival, made sure we were taken care of on the city excursions and assisted with the train embarkation. Later at the end of our visit he arranged for our chance to see the Sound and Light show at the Sphinx and to experience a traditional Egyptian meal before accompanying us to the airport for our flight out. He, along with the various drivers and the Cairo/Giza guide were excellent in contributing to our experience.
We received the same level of service from Emil in Luxor and from Adel on board the Mirage during our cruise and the visitations to the various historical sites. Adel was outstanding both as the historical guide as well as being the tour leader in that part of the trip. We would recommend him highly for his knowledge and commitment to his entourage, which consisted of ourselves and 7-8 Australians who were also on board.
As South Sinai representation in Sharm. Maseh(?) was nice . He tried to sell us diving and snorkeling ( I'm a lousy swimmer for one reason) Even as we were leaving he invited us to return ( nice gesture ) .
All the hotels we stayed in were very good to excellent. Certainly the Jolie Ville in Luxor was the best of all, in service, food and amenities. Having breakfast and dinner on the edge of the Nile was a bit like being in a movie. The Grand Azur and the Grand Pyramids were very good hotels as well. The Grand Azur, like the Jolie Ville had several different pools and a variety of eating places. The Pyramids almost seemed like an oasis compared to its local surroundings. In all cases we were well received in every way.
Finally one area we highly recommend you change in future trips is the overnight train ride from Cairo to Luxor. After over 11 hours of flying, a time change of 6 hours as well as trying to acclimatize ourselves to the new environments and trying to enjoy the initial days in Cairo, we were quite tired and jet lagged. Just as we were starting to adjust we took the "sleepless" train ride. That put us back at square one as far as being tired is concerned. I'm sure others have had the same experience. That's why we strongly suggest that you replace the train with a short flight. It might be a slightly higher cost but the experience will be much more enjoyable and far less tiring.
Overall we had a fantastic time with many, many wonderful memories. We would recommend the trip and your agency without any hesitation. The people of Egypt were very hospitable in all the venues we attended (except for the vendors in Cairo who couldn't take No or La as an answer) There were no problems with the political situation which seemed to be more volatile here than there. We'd love to go back and do most of it again and perhaps we will in a few years after we've seen some of the other places on out "to see" agenda.
Thank you again for all your work in setting this trip up. Take care and we hope to work with you again in the near future.
Personal Regards,
George & Diana Borowski
---
From: G.D.Borowski
Sent: Wednesday, May 16, 2012 5:06 PM
To: Rafik Salama
Subject: Letter on trip
Hi Rafik;
Here is the letter with some thoughts on our recent trip. Sorry for the delay but it's been a bit hectic here since our return.
Please let me know if you have any questions.
Take care,
George
---
From: Jenny_Menezes@s**.com
Sent: Thursday, April 12, 2012 8:21 AM
To: Discount Holiday
Subject: Thank you!
Dear Rafik – I returned from our pilgrimage to the Holy Land , only to travel again to New York for another week – and it has been so busy and I am now getting around to thank you on behalf of my mother and myself.
From the outset you have been very helpful with regard to all my queries regarding the visas for my mother for which I thank you. Also, when we were separated from the group and had to remain behind at Sharm El Sheik, we were treated extremely well and you and George were extremely attentive to our situation. The accommodation was outstanding and we were both very comfortable. We missed out on Petra – but I guess it was not meant to be.
Rafik – for all your kindness and care, I thank you. You are not just a travel agency – the service we received was non-comparable!!
The memories we created on our trip will last forever – every one of them were wonderful thanks to you and George.
Best regards
Jenny
---
From: Maria Ivankovic
Sent: Monday, March 19, 2012 10:21 AM
To: Discount Holiday
Subject: Re: Fomia Cell no
Hi Rafik,
We just got back late last night from Jordan and just wanted to let you know we had a fabulous time! Things went quite smoothly. Fomia was great and regularly called to check up on us. Petra is truly one of the most beautiful places we have ever seen! Jordanians are very nice. The Kempinski in Aqaba was unbelievable. The only place that was below expectations was the Mariott….loud like the Movenpick, bad food, and not worth the money….in case you wanted to know for other guests (It's probably worth the extra money to stay at the Kempinski at the Dead Sea). Thank you so much for all your help organizing the trip and all your advice.
Sincerely,
Maria & Ivica
---
From: vernon blake
Sent: Wednesday, March 14, 2012 2:22 AM
To: Discount Holiday
Subject: Re: Holy Land
Hi Rafik;
Thank you for your co-operation on this trip! We received the necessary amount of distilled water in each city we visited during ou vacation. We were also accompanied by a fantasic group of people.
Regards,
Vernon
---
From: Ronnie Garcia
Sent: Tuesday, March 06, 2012 8:52 PM
To: Discount Holiday
Subject: Re: How was your Egypt Trip
Hi Rafik,
Good to hear from you.
We just would like to let you know we had an excellent time. The tour guides are very professional and took good care of us especially the guides in Cairo; Remon and Mohammed. Egypt was everything we imagined. We have no complaints.
We will definitely recommend your agency to everyone.
Regards,
Ronnie
---
—– Original Message —
From: "Susan Carter" <s*****r@m***a.ca>
To: "Rafik Bassil" <discountholiday@bellnet.ca>
Sent: Monday, January 02, 2012 1:07 PM
Subject: Our recent trip to Egypt (short summary, with more detailed that I shared with friends that you should feel free to excerpt if you wish).


We (two older women) traveled to Egypt Nov 30 – Dec 15 2011, with all
arrangements made through Rafik at Discount Holidays. Given all the
recent events in Egypt, we relied heavily on Rafik's information about
what was actually happening on the ground in Egypt, and found that
everything was as he described. Our trip was wonderful, in part because
the political situation is so interesting and we followed closely in the
English newspapers. Also, there are very few tourists at the present
time, so the usual line ups to see the most popular sites do not exist
at present. And everyone is particularly welcoming and friendly to
visitors. All the arrangements were smooth and dependable. And at no
point did we ever feel threatened or unsafe – quite the opposite.
On our trip we spent a total of three days in Cairo, five days on the
Nile and the sites, and sights along the Nile, and then three days in
the (western) desert. For us, the time in the desert was the central
highlight, although all components of this trip were fascinating and
very different from one another. I would strongly recommend that this
is an excellent time to visit Egypt, and doing it through an Egypt
expert like Rafik Bassil, makes it even better.
Susan Carter

Susan Carter
112 Broadway
Ottawa K1S2V8

613-2367689
s*****r@m***a.ca
---
—– Original Message —–
From: Vijayashankar Konam
To: Discount Holiday
Sent: Saturday, October 29, 2011 6:38 PM
Subject: Thanks for the great trip Mr. RafeequeHello Mr. Rafeeque,
I am very happy to say that, we successfully completed our much awaited Egypt trip with all great memories and some nice friends there. My wife and me started to love the trip right from the moment we landed in Cairo until we were greeted off to New York by your agents in Egypt. All the way, we were accompanied by them and the guides and never felt like something was wrong. We loved the Egyptian people, Food (especially the deserts) and their hospitality. Please convey our thanks to the Guides Mr. Remon and Mr Aswani who took great care of us and explained everything at every temple and tomb that we visited in Egypt.
I would recommend this trip to anyone, who would love to know or are interested in knowing the great and golden history of Egypt, Pharaohs and their Gods..!!
Regards,
Vijay and Geetha
New York.
---
—– Original Message —–
From: Rami Younes
To: Discount Holiday
Sent: Thursday, May 26, 2011 7:44 PM
Subject: Great trip
Hi Rafik,
We are now back home and wanted to thank you for arranging a wonderful trip for us to Lebanon, Jordan, Israel & Egypt. The itinerary you put together allowed us to visit all the major attractions and at the same time gave us some relaxation time, especially in Sharm El Sheik. The guides were very knowledgeable and made our trip very pleasant. Everyone was very accommodating, including the drivers and tour representatives, who were always with us and always responding to the group needs. The safety issue during our trip was not a concern at any time. The media hype about unsafe travel in the middle east was certainly something we did not experience.
Rafik, once again, many thanks for a great and memorable trip and we will keep in touch.
Best regards
Rami
---
—– Original Message —–
From: "Samuel Rackal" <s*****l@yahoo.ca>
To: Discount Holiday
Sent: Tuesday, March 29, 2011 2:10 PM
Subject: Re; Trip to Egypt
> Dear Rafik:
> Winnie and I would like to thank you for arranging our
> recent trip to Egypt(March 9- 24)We had a wonderful time. There were no signs of protests, interruptions or demonstrations
> of any kind.The tour guides were all excellent. They made us feel welcome and were very friendly and helpful.The hotels provided first class meals and accommodation. At no time during the trip we felt unsafe or concerned for our safety.
> I will certainly recommend this Egyptian trip to anyone. The people are very friendly and hospitable.We enjoyed everyday of stay in Egypt visiting some of the historic places–The Pyramids,Temples, Churches, Aswan Dam and The famous Library in Alexandria, and the entertainment each night during the Nile Cruise. A truly unforgettable holiday.!!!
> Thank you again.
>
> Sam. & Winnie Rackal
>
> Sam. Rackal
>
---
—– Original Message —–
From: ANGELA COLLIER
Sent: Tuesday, December 14, 2010 2:38 PM
Subject: EgyptHi Rafik,

Please forgive the late note but after the trip I had to go for surgery and I am now recovering at home. However, I did want to thank you for the welcome voice mail on my answering machine. I also wanted to thank you and Richard for all your hard work in organizing our trip to Egypt.

MaryLynn and I had the most enjoyable trip in Egypt. Discount Holiday Center did an excellent job in organizing the itinerary, booking the tours, the guides, the hotels and all the travel plans. Everyone associated with you in Canada and those in Egypt were very professional, courteous, and helpful. It would be next to impossible to say what we enjoyed the most because everything was amazing. However, if I had to name one, it would have to be standing in front of the pyramids in Giza. Although, I have seen many pictures of the pyramids, nothing compares to being there in person.

Please thank Richard for us. He played an important part in ensuring that all went well. We appreciated his presence both on a professional level, as well as, being another member of our wonderful group. We had a lot of fun with him. We hope that we were not too demanding.

Both MaryLynn and I agree that the only change we would make to our trip is that we should have travelled by air from Cairo to Luxor and back from Aswan to Cairo. It was quite the education to travel using the sleeper train. One way would have been more than enough. However, we learn through experience and I cannot forget, that we did take some amazing pictures of rural living in Egypt. That alone was an education.

Thank you again for helping to make this trip, a trip of a lifetime. I will certainly recommend your company to anyone who is interested
in going to Egypt.

Angela Collier
---
—– Original Message —–
To: "Discount Holiday" <d***y@b**a>
From: "Mary Heyermans" <m********s@gmail.com>
Sent: Sunday, November 14, 2010 4:19 PM
Subject: Egypt 2010
Rafik,
I just wanted to send you a quick note to let you know that our recent trip to Egypt surpassed all of my expectations. I must admit I was a bit apprehensive about going (something my husband has wanted to do), but it can't always be about me! As it turned out, it was one of the best trips that I have ever taken!
This was the first time that we have ever traveled through an organized tour group and weren't quite sure what to expect. We did not have to worry about one thing. There was always a tour representative to meet us at the airports/hotels and take us to our next destination. They even looked after checking us into the hotels and airports. The service was incredible!
Your name was given to us by a friend and I would not for a minute, hesitate to pass your name along to others. Your knowledge, professionalism, patience and kindness was evident from the first time I contacted you. Even when I called you with silly questions, you always made them feel important.
Our cruise down the Nile (El Farrida) was exciting and the food on the ship was great! Our tour guide Muhammed (Aswani) was very knowledgeable and a great Pharaoh Leader! We took a side trip to Abu Simbel and I must say, it was my absolute favorite temple.
We then spent a few days on the Red Sea at the Sheraton Sharm El Sheikh. It was amazing…..I would highly recommend it, felt like we were in the Caribbean….only better! We will definitely go back!
We were able to ride camels on our way to Mount Sinia (St. Catherine). The views from atop the mountains and watching the sunrise was worth getting up for in the middle of the night for the climb.
Our last few days were spent in Cairo at the Grand Hyatt. Once again the hotel and food were outstanding. Our guides were Magdee and Muhammed Ali, both of whom were knowledgeable, personable and had great sense of humors! We had an awesome time!
Once again we'd like to thank you and your counterparts at South Sinai Travel for making our trip to Egypt a memorable one!
Sincerely,
Mary & Harold Heyermans
---
—– Original Message —–
From: dawn gorgichuk
To: rafik
Sent Monday, October 18, 2010 9:50 AM
Subject: Egypt
Hi Rafik
Sorry for taking so long to get back to you. Life has been busy since we have been back form vacation.
I wanted to say thank you for all the work you did to make our trip to Egypt and Germany the most enjoyable time. We had a great time and met so many wonderful people.
Egypt is amazing. I most certainly recommend this trip to others.
Thanks again for all your hard work.
Dawn & Rick Gorgichuk
---
—– Original Message —–
From: R Cullen
To: Discount Holiday
Sent: Sunday, October 17, 2010 1:41 PM
Subject: We're home
Rafik,
We are now home and getting over the jet lag of the trip.
We had an absolutely marvelous time in Egypt. Thank you so much for all your planning to make it happen for us.
Everything worked out very well. The hotels were all very comfortable, as was the cruise ship.
Hisham in Cairo was very good. He was on time for every pick-up and was most efficient. Also, was Amr who managed all our changes and questions.
We appreciated the easy changes to our schedule due to late plane arrivals – they all worked so well for us.
We really enjoyed working with Mohammad as the guide on the cruise. He has a great personality, and certainly knows his history at all the sights, and had lots of stories to tell us. Â He was good at getting us out of bed early to beat the heat on our excursions to sights.
The only thing that disappointed us was the food on the cruise ship. We were hoping to eat more Egyptian food, but the cooking was mostly "western". I suppose most guests want this. We did go to dinner at the Nubian restaurant at Aswan which we enjoyed, and found a good Egyptian restaurant next to the la Meridian in Cairo.
Thank you again for all your assistance. We will highly recommend your company for trips to Egypt.
Ethne and Roy Cullen.
Hon. Roy Cullen, P.C., C.A.
1, 881 Nicholson Street
Victoria, British Columbia, Canada
V8X 5C5
(250) 590-5940
c*****n*@shaw.ca
---
—– Original Message —–
From: darcy wittek
Sent: Tuesday, September 21, 2010 9:30 AM
Subject: Recent Egyptian Holiday
Just a note to thank you for your professionalism on our recent Egyptian Holiday. From Start to Finish your company handled everything very well. We have not been a fan of organized tours in the past and have found them to be similar to cattle calls. From the moment we landed one of your staff was always there to greet us, answer questions and guide us through – always in our small group and it felt like a family trip rather than a tour.
I have food allergies (Celiac and highly allergic to Msg), I was concerned about how I would make out since from what I had read most meals tended to revolve around bread and the doctor was advising against eating salads which was always my alternate. The hotels and ship you chose along with Kathryn and Magdee always made sure that I was able to eat a great meal – Thank You.
Overall we are extremely happy with the quality of the tour and the specialized service you and your company provided. We would highly recommend your company to our friends and would like to thank everyone involved for our memories of the beautiful country of Egypt.
Dieter and Darcy Wittek (Sept 2 – 17)
---
—– Original Message —–
From: rai????????aud@netscape.net
Sent: Saturday, July 24, 2010 4:26 PM
Subject: Two Words
Absolutely Fantastic!!
We had an amazing time during our vacation to Egypt, Jordan and Israel. The itinerary was extremely well laid out. The accommodations, Guides and Drivers were all excellent. All transfers went flawlessly. It was everything we were looking for and more.
Where do we begin? Magdi in Cairo was absolutely amazing. His knowledge of the city, combined with our driver Mohamed made us feel like we were Royalty on tour. They were always in command looking after our our every need as we we discovered the cities of both Cairo and Alexandria, and did an excellent job of deterring unwanted vendors from "pestering" us. One look – is all it took, and occasionally a verbal exchange. It was great. Super job Magdi!
The Nile cruise was excellent. We can not say enough good things about Mary our tour guide. She did an amazingly, absolutely wonderful job of providing us information on all the sites, not to mention steering us towards the best value for our dollar towards souvenirs and other keepsakes. Particularly enjoyed her sugar cane juice treat as we toured the markets in Aswan. She went above and beyond by assisting us in contacting our family back home through her personal email and providing us feedback. She was very personable and sincere. Mary was excellent.
Osama in Jordan was equally excellent in providing us superb insight into the various sites and points of interest in Jordan. We were always comfortable while traveling with him as he explained in full detail the itinerary which we would cover, including the timing, etc. Osama was great!
Lazarus in Israel. Well, I think he is Osama's twin. He provided an equally amazing vision of Israel. He was always aware of our needs, extremely accommodating and punctual, always asking and checking to insure we were covering our points of interest. When my camera batteries died, he was right here to take pictures on his cell phone, apologizing that the quality may not be as good as a camera, however it was the best he could do at the the time. Another amazing Guide.
All transfer agents were very good. Particular note to Simon and Tony who seemed to be some what more receptive and personable as per our experience.
The baksheesh, tipping, does take some getting used to in Egypt. Talking to fellow travelers, they too found it very "awkward" and wished there was a way to just include it some how in "the package", however it is understandable that there are certain variables that would impact this inclusion.
All in all we are extremely satisfied with our Egypt, Jordan. Israel, experience. We would not hesitate for one minute, make that one second, in recommending any one who asks or even suggests to us they are thinking of covering this area, to recommend that they take the opportunity to call Rafik, at Discount Holiday Center. An opportunity of a lifetime. They will not be disappointed. Our experience was great! It doesn't get any better than this.
Thanks Again Rafik!! – For providing us with a lifetime experience of a wonderful part of the world that we will always cherish.
We don't know how you pulled it off, but you obviously must have some "Special Powers" working for you.
Our Sincere Thanks and Appreciation,
Raymond and Marilyn Michaud
---
—– Original Message —–
From: Romeo Fernandez
To: Rafik Bassili
Cc: m?????@yahoo.com; the?????@hotmail.com
Sent: Friday, April 23, 2010 9:38 AM
Subject: We had a fabulous and memorable time in Egypt, April 9-20
Dear Rafik,
Thanks for your telephone call yesterday. Your thoughtfulness is greatly appreciated.
While I indicated to you yesterday that I'd provide you and the people in Egypt who were instrumental in making our first trip to your beautiful, historical and interesting country enjoyable and memorable, our feedback after I have prepared our 2009 income tax returns due April 30th, I changed my mind.
While our travel to Egypt is still vivid in our mind, we would like now to share with you and your wonderful friends in Egypt the following, hoping they would be of interest to you all:
After two sleepiness nights in Cairo (hotel and airport), Rome (Fiumicino Airport) and on Alitalia aircraft since April 19, we finally arrived home safe @ 7:00pm last Wed., April 21. We're lucky our flight from Rome to Toronto was just delayed for two hours and took longer air route (10 hours instead of 8-1/2 hrs Toronto to Rome on April 8, to avoid volcanic ash on air space according to the pilot)Â unlike thousands of passengers stranded in Europe due to cancellation of flights to and from Europe caused by the volcanic eruption in Iceland.
Your arranging with Alitalia 2-seater window seats for our outbound and inbound flights eased up significantly the long duration of both flights.
At this writing, Lunesa and I are still disoriented and suffering from exhaustion, jet lag and time difference. Despite the heat (more intense than in our native country, the Philippines) that Lunesa had to use an umbrella for the first time in our travel outside Canada), walking on an uneven and rocky terrains and climbing hills during our escorted tour, we truly had a wonderful and memorable first trip to Egypt. Part of our enjoyment was that our group of 19, including an Australian couple and a grandfather, grandmother and granddaughter from Cyprus and London, were very intimate during our tour, especially on that unforgettable 4-night Nile River Cruise.
Also contributing to our satisfaction, a reinforcement of earlier feedbacks you received from your earlier satisfied group, are as follows:
The attractions and sceneries you arranged for us, Egypt in Brief with three optional tours, including Abu Simbel, more than met our expectations, despite knowing much already about your country before touring it.
From the moment we arrived in Cairo International Airport on April 9th and until we left Cairo for Rome on April 21st, your agents and friends in Egypt took all our needs. We'd be at a loss and it would cost us more if we arranged all the things you and they did for us on our own.
We enjoyed the room accommodation, amenities, services and friendliness of the staff on all the beautiful hotels in Cairo and Aswan included in our package.
We greatly appreciated our having good view rooms and late check-outs at Basma Hotel (Aswan) and Le Meridien Pyramids Hotel (Cairo), arranged by Amr Amin and Hesham Hassan respectively.
We found the cabin or stateroom we had at Mirage 1 cruise ship, especially its wide river view window, more spacious, lavish, comfortable, and breath-taking than we've experienced sailing with luxurious ocean liner cruise ships. We also enjoyed the services, entertainment, food and the friendliness of the staff at Mirage.
We generally found the Egyptologists or tour guides throughout our tour knowledgeable, friendly, patient and pleasant. They were also genuinely concerned with our safety.
While we observed driving and crossing the street in Egypt very risky, South Sinai Travel provided us good drivers on all our tours.
The tour provided us an opportunity riding a camel and a felucca for the first time, both an unforgettable experience.
We found the natives we met, including the market bazaar vendors and tourist police friendly and helpful.
After joining the tour provided by the staff of Alexandria Library, we were overwhelmed by its beautiful building designs and collections. We were also so impressed by the staff guide when she demonstrated in a computer terminal many interesting stuff found in the Library available in its website, www.bibalex.org, free of charge! When I asked the guide what will the Library hopes to get in return for this free information and service, I was told, the management and staff of the Library are striving to attain its former role as the seat of knowledge around the world as in ancient times!
Wherever we travel, we see to it that we buy postcards of the attractions we visited, to put side with side with the pictures we took in an album. This is because the attractions on these postcards were taken by professional photographers. And our postcard needs were adequately met in Egypt as the roll of postcards costs mostly only 5 Egyptian pounds! I became a good student of price haggling for this item in Egypt!
Last but not least, The Egyptian Vision DVD produced by Egyptologist and Tour Guide Mohammed Fathy, out of his love for your land and culture, is a terrific memento of our first travel in Egypt. This fantastic DVD was made available to our group by our Egyptologist/Tour Guide Mary Hanna at no sale pressure on our group. Because of our hectic schedule on the tour, if it were not for Mary, we won't know the availability of this DVD. When we returned to Toronto on April 21st, I went to bed early that evening. After I woke up at 2:00am the following morning, I was curious to see whether the DVD which we bought from Mary for US$20 would work in our DVD player and TV set. We had a bad experience buying a similar DVD in Acapulco, Mexico that won't work in Canada. The DVD packet says it contains 1,530 photos of best quality of the most important sightseeing in Egypt with description broken down into three main headings: A-Upper Egypt, B-Lower Egypt, and C-Nature. After seeing the first series of slides about Abu Simbel with beautiful background music, while still feeling tired and sleepy, I was hooked to viewing more of the video. I started viewing the DVD at 2:10am and finished watching the last series of Egyptian Nature around 5:45am!
As a final note, the gift my family gave me (Romeo) on my 70th birthday to visit Egypt is worth every penny of our well organized and delivered travel package. Frankly, being a heart attack survivor, having an almost fatal heart attack in 2003, I could be a risk to Discount Holiday Center Ltd. and South Sinai Travel. Having survived the heat, walking and climbing during the tour, made me feel blessed that I could keep pace with the rest of our group younger than me.
So thank you and your agents/friends at South Sinai once again for all the things you guys had done to making our travel to Egypt a fabulous and memorable experience.
Insha-Allah,
Lunesa & Romeo Fernandez
---
—– Original Message —–
From: Mylene Tuazon
To: 'Discount Holiday'
Sent: Friday, January 29, 2010 11:01 AM
Subject: Hi Rafik!
Hi Rafik!
I don't know if you'll remember me, Mylene Tuazon? I traveled with Neerja Goyal in the end of September 2009. You did an amazing job with our travel arrangements and although I'm rather delayed in letting you know this, we truly had an amazing time in Egypt and I just wanted to send my sincere gratitude for all you did for us!
I don't know if you knew that we basically ended up with a private tour since there were no other travelers to join our group. This was really a surprise bonus for us since I'm not really into big group travel tours. We were able to get one-on-one education from our very well-informed and pleasant tour guides. No time was wasted waiting for those who tend to lag behind when in a big group!! This meant that there was more time for us to enjoy our visits to all those incredible sites of Egypt! J
People who've asked me about my trip are surprised when they hear me say that it was so far the best trip I've ever been to. Both Neerja and I agree on this, and we've both done quite a lot of traveling to different parts of the world. Seeing the Great Pyramids was a surreal experience. As much as we see this site on tv or in pictures, there's nothing to compare it to being right there to see it and realize how really massive they are. Getting to ride camels behind the pyramids and going inside one of the pyramids was surely a plus!!! We wore the biggest grins on our faces as we rode those camels in the desert behind the pyramids. We couldn't believe that we were actually there and having one of our travel dreams come true!! At least…one of my dreams, anyways!! J
I could carry on and on about all our wonderful experiences but I best stop, because it will take a whole day to do that! I just wanted to just really thank you for a wonderful job and all the extras that you did for us. You really made our trip one of the best ever!
Rafik, I just want to let you know also that I've given your name to a couple of people who are very interested in visiting Egypt. I told them about my wonderful experience and that you are the best person to help them with their travel plans.
BTW…our tour guide, George Onsi, in Cairo was such an amiable and well-informed guide. He really knows his stuff!! We really enjoyed our time with him.
Thanks again for everything!
Sincerely,
Mylene
---
To: Discount Holiday
Sent: Tuesday, June 02, 2009 9:23 PM
Subject: Web Mail from: Sylvie Cadieux
Phone:
Email: s????????????????9@hotmail.com
How did you hear about us:
Feedback
Hello Mr. Rafik
Just a little word to let you know that we had a wonderful trip to Egypt in may 2009.We were pretty nervous about all this when we started to discuss with you, because we were a French speaking group.But like you had promised every thing was perfect all the way.The Hotels were first class with real nice personnel, we enjoyed the cruise on the Nile,we felt like a big family on the ship with the members of the cruise.We also enjoyed staying in Sharm el Sheik,it's a place where a would like to spend more time,but there is so much to see and we had only 2 weeks.Our french speaking guide,Tamer was very generous of his time and shared with us all he knew about the history of Egypt.We saw so many beautiful things ,including the nights show in Cairo and Luxor that I would be unable to say what i have prefer.Mr.Rafik,i must say that you gave us a very good service from the start,everything was perfect.
Thank you
Sylvie and Myriam
---
—– Original Message —–
From: Khatun Damji
To: Discount Holiday
Sent: Friday, May 29, 2009 8:28 AM
Subject: Egypt tour
Hello Rafik,
Just some feed back to say how wonderful the trip to Egypt was. The hotels were excellent, the food was great and safe, and the guide was very knowledgeable and caring. He covered a lot of ground on ancient history of Egypt as well as visits to some exciting cotttage industries like carpet and papyrus making. The itenarary covered almost all the ancient sites in the Nile valley. The trip to Abu Simbel was, of course, the high light.
The people of Egypt were wonderfuI and gracious although overwhelmingly persuasive in selling their wares. I left Egypt with a sense of awe and marvel, and so glad I went. Thank you Rafik for organizing a worthwhile trip.Khatun Damji
---
—– Original Message —–
From: Annette Wong
Cc: s???????r@rogers.com ; Michael Martin ; ???@s????????i.com
Sent: Monday, May 18, 2009 10:12 AM
Subject: Egypt – Thank You
Hi Rafiq
A big thank you to you and your team in Egypt – the trip was excellent!!!
Firstly, we want to let you know how much we sincerely appreciated you going the extra mile in re-arranging our itinerary to accommodate our extra day in Cairo to make up for our delayed arrival by Air Canada.
The service provided by your team in Egypt was prompt, efficient and courteous. The accommodations were also great (the boats could do with a bit of refreshing but for the most part was fine).
The guides were friendly and knowledgeable – a special warm thank you to Marwa Sarrag who was our guide from Luxor to Aswan – who was patient and shared of herself and knowledge in making us feel at home away from home.
Warm regards,
Annette
Annette Wong, B.Comm., CFP
Canfin Financial Group
905 829-0094 (Tel) 905 829-1280 (Fax)
905 471 7398 (Direct)
---
—– Original Message —–
To: Discount Holiday
Sent: Saturday, May 16, 2009 10:28 AM
Subject: Thanks
Hi Rafik :-
I am back to Canada and many thanks for all your hard work & all the arrangements, it was a very nice trip, well organized by you and your associates, please send my regards to all of them for me.
Me and my wife enjoy the whole trip from end to end, thanks again.
Ray Chiu
905 470 7230
---
—– Original Message —–
From: m??????l@sympatico.ca
To: Discount Holiday
Sent: Monday, April 13, 2009 2:52 PM
Subject: Egypt TripHi Rafik,

I just wanted to let you know that we truly had the trip of a lifetime on our recent trip to Egypt. I want to thank you for everything you did for us, the organization was fantastic. I also cannot say enough good things about South Sinai Travel. Someone was always there when we needed them. We were treated like royalty and loved every minute of it.

We are doing a scrapbook of our trip and have all of our guides and drivers names down except the one guide who was with us from RA II to Hurghada on the bus ride. He was very enjoyable, informative and we had a great trip across the desert with him. Can you possibly find out his name for us.

Also, do you restrict yourself to Egypt or do you do the same kind of fantastic trips elsewhere. We are just starting to research another big trip for us in about March or April, 2011. We are interested in a Greco/Roman trip, preferrably part cruise and part land excursions to see the best of classical Greece and Rome – the historical parts.

If you arrange these kinds of trips I would be interested in some itineraries, prices, etc.

Again, thank you so much for all you did to make our vacation the best one yet.

Sandra
---
—– Original Message —–
From: Julian M
To: Discount Holiday
Sent: Saturday, October 04, 2008 8:09 AM
Subject: FW: Our Trip to Egypt in the middle of September
Hello Rafik
Thank you for arranging an excellent tour for us in Egypt.
Everything was like you've described it,… and the service was even better than we expected.
We had a personal driver and a guide at all times. Yasser, Mohamed, Rania and others were always making sure that we had our fill of attractions and enough rest. All transfers went smoothly and there was always someone waiting for us at transfer locations. We immensely enjoyed the culture and history of your country, Marriott Palace hotel was exclusive, pyramids were colossal, Tutankhamen's artifacts were mind boggling, Luxor, with its Temples and Tombs of the Kings, finally brought realization of the greatness of the Pharaonic era. Nile cruise from Luxor to Aswan was very comfortable (the rooms were certainly much larger than those on many Cruise ships in the Caribbean) and allowed us to relax and see many places of interest. We were pleasantly surprised with the Grand Seas and neighboring resorts on the Red Sea.
We had a great time, took lots of pictures and have nice memories.
Thank you and your counterparts in Egypt for an excellent trip.
Julian and Eva Milakowski
Toronto, Canada
Oct 2, 2008
PS: We are attaching a few pictures.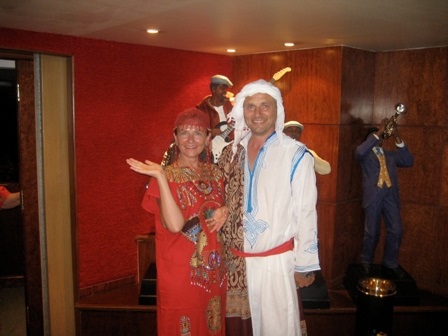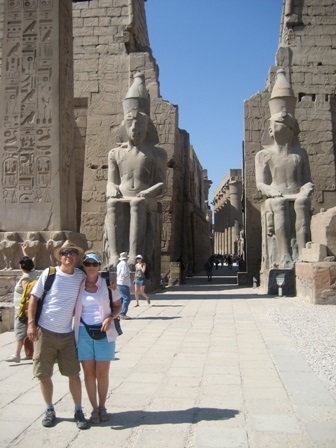 ---
From: Charlie Bugeya
To: Discount Holiday
Sent: Friday, March 17, 2006 2:53 PM
Subject: Egypt holiday
March 17th 2006
Dear Rafik,
Erika and me, would like to thank you for our wonderful holiday we just had in Egypt and Israel, these past few weeks.
We met some excellent people there, like Amgad, in Cairo, who literally walked us through customs and passports and the visa offices. He is such a helpful guy, and well dressed too.
Raymond, our guide in Cairo, explained all that we were looking at, whether it was the Pyramids, the Sphinx or the Sun boat, even though the dust in the air was not in our favour. He was also patient with us during all our many questions.
Nabil, met us in Aswan, and was with us all the time on the Nile cruise, and the excursions off the boat. He calls himself, 'the Tiger', and I think its a name well earned, especially when he talks about his personal experiences. Did he really meet that girl, with that offer, or was it something that he tells to all his listeners? I guess, I will never know!
Lea, was excellent in Israel. Her knowledge of the Jewish / Christian / Moslem histories, is second to none. Nobody should miss the Holocaust Museum. Mohammed, the driver, can manoeuvre that bus with ease, whether it was in Jerusalem, the Golan Heights or Haifa.
I guess the only little complaint we have, ( if you want to call it a complaint) is that we had too much time to kill before the boat left towards Luxor. I mean if we knew that we had so much time, we would have gone to Abu Simbel. Had we known that, we would have preferred to fly to Abu Simbel, and then returned to the boat by the bus. Perhaps, it was not explained properly to us. Anyways, maybe this can be arranged for future trips.
But all in all, we can only say, BRAVO RAFIK, for planning our memorable trip to Egypt and the Holy Land. Thanks again.
Yours truly,
Erika and Charlie
---
From: Magdy Abdelmassih
To: Discount Holiday
Sent: Friday, February 03, 2006 9:33 AM
Subject: Thanks for a great trip
Hi Rafik,
This is just a little note to thank you so much for the wonderfully organized trip that you arranged for us to Egypt during the first two weeks of January 2006. My parents and I had a wonderful time. It was an especially confortable trip because of how well it was organized and the professionalism that we experienced from the Seniora staff in Egypt. They were always punctual, courteous and professional. Our accomodations at the Meridien and Sheraton hotels in Cairo and Alexandria were top notch.
Having never traveled to Egypt before, I was a bit anxious about arrangements but my fears were quickly put to rest upon arrival when we were greeted at the airport and assisted with customs clearance and baggage claim by the Seniora staff. The rest of the trip went just as smoothly with no confusion at all about arrangements. The cruise on the Nile abord the Nile Odyssey was exquisite. What a wonderful crew. The food was delicious and the accommodations were very comfortable. The Egyptologist provided for the tours was extremely knowledgeable, patient and pleasant.
Overall, we had a wonderful time and I am anxious to return for a similar trip with my entire family.
Thank you once again for making all the arrangements. Magdy Abdelmassih
---
From: "John and Arlene Nash" <j????h@shaw.ca>
To: "Seham Salama" <discounthollday@bellnet.ca>
Sent: March 13, 2005 7:14 PM
Subject: Re: Egypt Itinerary
Rafik
We had a wonderful holiday in Egypt/Jordan – it was a tremendous experience. The sights and scenery were terrific, the Ni cruise was perfect and the accommodations were very good. In addition, your agents in both Cairo and Amman took excellent care of us, and provided us with knowledgeable and personable guides. Seniora Travel was quickly able to arrange for a second van to take us from Alexandria to Cairo Airport so that we could catch our plane to Frankfurt after the first van was involved in a highway accident on the way from Cairo to Alexandria – I hope Mohammed (the Seniora Travel person who was looking after us) and the driver have fully recovered. The only thing that went a little astray is that there seemed to be some lack of understanding between the itinerary that we had arranged with you and what your agents in Cairo and, particularly, Amman thought was the itinerary. The agent in Amman were not aware when we arrived that we were spending two nights in Petra along with a side trip to Wadi Rum, although this was straightened out, In any event. I will certainly recommend your company to anybody who is interested in taking a trip to Egypt/Jordan, It was a memorable trip and many thanks for everything.
John Nash
---
Jessie Morrissey, Travel Specialist 416-947 2225
January 4, 2005
Mr. Rafik Salama,
Discount Holiday Center
4168 Finch Ave. E
Toronto ON
MIS 4H6
Dear Rafik,
I just wanted to say thank you for organizing my Egypt experience. As you know I have worked in the travel industry for many years and done a great deal of traveling, but Egypt has always been high on any list of place to see. I was not disappointed.
The itinerary you put together for me was perfect, I saw all the major sights Egypt has to offer as well as taking some time to relax. The hotels you offer are wonderful, well located and certainly of 5 star standards.
Our experience on the Nile cruise was most enjoyable, the food, service and staff were marvelous.
The tour company you use in Egypt are friendly and efficient and looked after our every need. The guides we had were extremely friendly as well as being well versed in the history of Egypt. I learned a great deal from them.
What more can I say, except I can't wait to go back and I sill be calling you to arrange my next Egypt adventure.
Thank you again for all your help.
Best regards,
Jessie Morrissey
---
Karin Brothers
573 Horon Street , Toronto, Ontario M5R 2R6
Tel: (416) 966-2815
August 7. 2000
Mr. Rafik Salama
Sun Holidays
Fax: 789-3903
Dear Rafik:
You should be called Ter-rafik. We were so impressed by your organized of our trip. It went perfectly. We had the most impressive people in Egypt handle our trip. We had felt very vulnerable visiting a country that seemed to foreign, with a language we couldn't make out at all.
In Cairo, Waheed and a very component women met us when our plane landed. Despite the fact that my son and I were not given entry papers on the plane, they quickly whisked us through everything. They even paid up front for our viasas, not even waiting for us to find the money ourselves. Waheed is a very impressive man: very handsome, educated, elegant, intelligent and sharp. He was there right on time, whenever he was scheduled to meet us. with his kind smile, smoothing everything in sight for us. we were even given his number for any emergencies that could come up. He also gave us important information about dating and tipping in Egypt.
In Luxor, Magdi (I'm not sure of the spelling)m met our plane and again made sure that everything went perfectly. He took us to the Sound and Light show at Karnak that night, Amazingly, and I can't imagine how he did it, our cab was first in line in a parking lot filled with cars and buses. We appreciated that, as we had been up since about 2 a.m. with our travels that day and couldn't have taken waiting too long at that point at night. Our cruise on the Nile Admiral was excellent. The boat was elegant, and the food was both good and safe. Excellent trips were scheduled with an informative, enthusiastic and wonderful guide. Sameh. At Aswan, we were met again right on time, if not earlier, and had very considerate, competent service.
And our plane into Cairo was met with a cab getting into our excellent hotel. We were somewhat dubious about the hotel at first, since we had been given a substitute hotel: but the Nile Hilton was just wonderful. The location was excellent, right next to the Egyptian Museum, the Metro, and on the Nile. The hotel itself was wonderful, with a pool, a dreamy outdoor restaurant that we loved, very good food, and a stupendous bar/restaurant overlooking the entire city at the top.
And our guide in Cairo, Said. Couldn't have been better. We must have thrown him, as we had decided we wanted to do different things entirely than planned. He was terrific. We did exactly what we wanted. We had the most modern, comfortable car for the four of us, and a most impressive driver. Said quickly rearranged the schedule (amazing. As a driver would not have been needed for his understanding of the morning) and we did more than we could have imagined. We couldn't have had a nicer and better guide: Said was great.
e believe that the kind and competent people we met through you made our visit to Egypt a real high point of our trip. We heard of other kinds of stories from fellow travelers. So we really appreciated the superb service you provided for us. Thank you so much. We would be happy to recommend your service to everyone
With best wishes, Karin Brothers
---
Magdi Morcos
1057 Mountview Dr.
Oshawa, Ontario, Canada
L1K-2L3
Dear Rafik
I want to take this opportunity to thank you for the marvelous trip to Egypt that you organized for us in March through "Discount Holiday Center". We feel that there is no way to fully express our appreciation for the superb organization and care that you and your staff demonstrated. It made our trip to Egypt both unique and successful. My wife and I depended on you and your staff and we will forever appreciate how friendly and helpful you were. If you want to use us as a reference we can be contacted at 905-448-9717.
Our trip was absolutely fantastic. Thanks again, Rafik.
Best wishes to you,
Magdi and Zaina Morcos
---